When a Customer confirms payment for a task you completed, the money 💰️ will first go to your Stripe account, and then either after the weekly payout or if you take an Instant Payout will show up in your 🏛️ bank account.
Money is deposited into your bank account on a weekly basis, (every Wednesday.) This is called a 'Payout'. Please read through how the weekly payout works carefully.
📢️The Customer has up to 24 hours ⏱️ to mark that task is confirmed. The best practice is to make sure that you always sign out with management (if a supervised task) and if applicable, complete any survey and upload pictures if your task requires them.
Here is a helpful video to watch.
How it Works
1. Payment Setup
We partner with a 3rd party payment processing company called Stripe
When you set up your Payment Information during sign-up, you are creating an account in Stripe, with your Bank Account or Debit Card 💳️ information. If you set up an eligible debit card, you qualify to take an Instant Payout from your Stripe account and won't have to wait for the weekly payout.
2. You get 'Paid' instantly - to your Stripe Account
This means the money confirmed for the task you completed gets deposited to your Stripe Account instantly (customers have up to 24 hours to confirm payment). However, it does NOT get deposited into your Bank Account instantly (you have to wait for the weekly payout or take an Instant Payout for it to transfer from Stripe to your bank account). The image shows the notification you will receive when you get paid. Again, this is NOT a deposit to your Bank Account.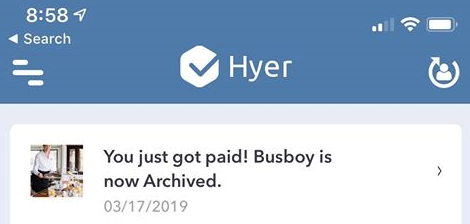 3. You get a 'Payout' weekly - to your Bank Account or take an Instant Payout
NOTES
📣️If you do not receive a payout by

5 pm EST

on the weekly payout day (Wednesday), then please contact Tasker Support through the help center, so we can look into it for you.

Do no

t contact the customer if you have not been paid. Click 👉️ here for information on understanding the weekly payout!

Only go to tasks that you are scheduled for!

You will see a status of

Scheduled

within that task in your task view. If this says anything besides Scheduled, the Customer is not expecting you.

Do not show up.
Tasks that are edited may take up to 72 hours to process.