What happens when there is a 🏛️ bank holiday, or if a bank holiday falls on a Monday and how does it affect how you get paid?
First, let's understand how payouts work
Each time you complete a task, the Customer will confirm the work has been done (customer has up to 24 ⏱️ hours after you hit "I'm Done"take to confirm payment) and at that time the payment is transferred to your Stripe account.
Those funds will stay in your Stripe account until you request an Instant Payout 💳️ (restrictions and fees apply) or by default will be processed on Mondays for the Weekly Payout. You will receive this payout midweek, no later than Thursday. The exact time can vary throughout the course of a day.​​
Each Weekly Payout includes any payment in the past week, from 4 PM EST Monday to 4 PM EST Monday. (for more information on Regular Weekly Payouts click this article: Understanding the weekly payout)
Note: For Instant Payout Information please see this 👉️ Help Center Article: Instant Payout FAQ
Bank Holidays: (See image at the bottom of article for 2022 Bank Holidays)
When there is a bank holiday, it is up to that banking institution when funds will be released. This may result in a delay in payment for 1 business day📅️. Remember every institution is different and you should check with your bank for any pending payments.
When a Bank Holiday falls on a Monday
The only changes you will see to this schedule from a normal payout is if the bank holiday falls on a Monday. If this is the case, the payout will include everything Monday through Friday 4 PM EST of the previous week, and the next payout will include Saturday to the next Monday of the holiday week; and when a holiday is on a Wednesday, in which case the payout will occur on the Thursday of that week (the next business day).
Instant Payout
Instant Payouts cannot be initiated between 4-5 PM ET on Mondays. Payments that have not been paid out by 4 PM ET on Mondays will be in your Weekly Payout. Only new payouts can be initiated after 5 PM ET on Mondays. If you want to avoid having to wait for your funds, you can switch your payouts to be manual so that they don't automatically process if you haven't taken an Instant Payout.
Examples: (Monday, 01/17/2022 is a bank holiday)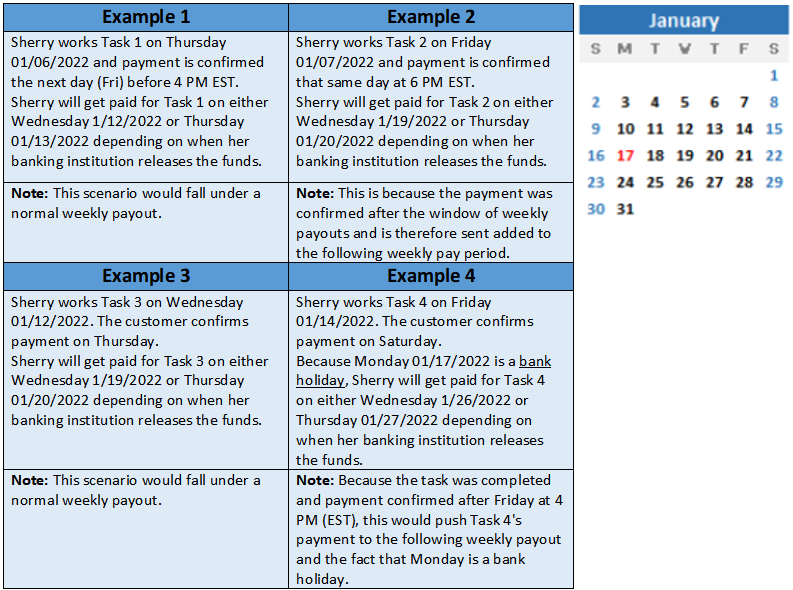 Tasks that are edited may take up to 72 hours to process. This information is subject to change.